PT2-124
A hybrid twin-engine motorunit for UAVs
Twin-engine power plant with the integrated transmission. Electronically synchronized rotation of coaxial rotors.
Talk to us
Key technologies
Each of two engine is 124cc 29hp—two-stroke with fuel injection and liquid cooling. An 11kw generator/booster/starter is integrated into the engine crankshaft. Reducer with a gear ratio of 1:5. Idling clutch. Duplicated cooling systems (two pumps for each of the dual cooling loops.). Dual ignition systems, two spark plugs per cylinder, two coils, and two controllers per cylinder.
The procedures for starting, holding, idling, and holding the desired torque are performed and maintained automatically by command from the controller. The governor can operate both with the given rotation speed and with the required torque level.
Eight silent blocks are located on the motor mount for placement on the aircraft.
All control of the power plant is carried out via the CAN bus.
The fuel pump can lift fuel from tanks one and a half meters below the engines.
The outlook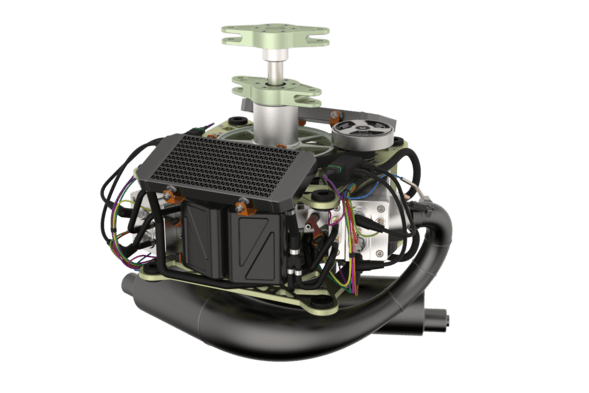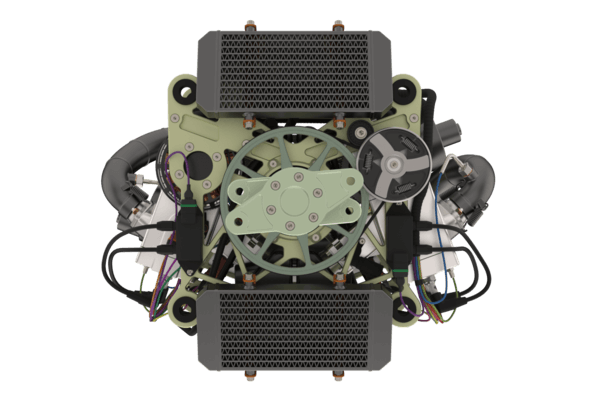 | | |
| --- | --- |
| Engine type (each of two) | Hybrid, 2-stroke, 1 cylinder |
| Weight | 23.5 kg |
| Displacement | 124 cc |
| Length/Width/Height | 600x600x300 |
| Bore | 54 mm |
| Stroke | 54 mm |
| Power (total) | 55 hp at 8800 rpm |
| Maximum Continuous Speed | 9550 rpm |
| Ignition | Electronic CDI. Twin spark plug. Variable ignition front |
| Cooling | Liquid cooling, pressured thermostated system with external electric cooling pump and radiators |
| Fuel system | Electronic Fuel Two Stage Injection Throttle body + Transfer port |
| Fuel type | JP8, Jet-A1, F54 |
| Fuel consumption | 200 – 220 g / kW / hr |
| TBO (estimate) | 1000h |
| Preferred oil type | API TC |
| Fuel to oil mixture | Premix 2%, Automix – 0,5-1% |
| Sensors / Telemetry | EGT – Exhaust gas temperature; CHT – Cylinder head temperature; CLT – Cooling liquid temperature; IAT – Intake air temperature; RPM – Rotation per mine; CSP – Crankshaft Position; KS – Knock sensor; Airflow, Throttle position, Fuel Flow |
| Control | CAN 2.0B J1339/29bit; ADLM + TrueTorgue |
| Electric System | Internet alternator / starter; Internal starter battery pack 5Ah |
Get in touch
Please fill in the form below or contact us using the details at the bottom of the page
Get in touch
Please fill in the form below or contact us using the details at the bottom of the page